How To Lay Foundations For An Extension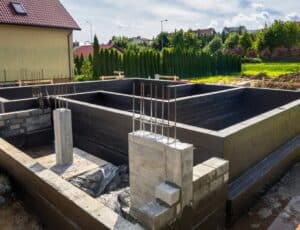 The foundations of a property may not be visible, but they're one of the most important aspects of any structure. Built beneath the ground, they ensure the building is firmly in place and that the weight of the property is distributed evenly.
If you decide to extend your property, you'll need to lay new foundations, as well as building the additional structure. Regardless of whether you're adding a one, two, or even three-storey extension to your property, laying foundations is one of the most important elements of the project.
How Deep Should Foundations Be?
For domestic projects, shallow foundations are usually sufficient, particularly if you're adding an extension to a property, rather than erecting an entire structure. If you're using strip foundations for a single storey extension, for example, they will generally need to be at least 200mm deep and 450mm wide.
However, the depth and type of foundation you use are dependent on the soil surrounding your property. Clay or peat soils are likely to move and swell more, which means it's often necessary to lay deeper foundations. Before you begin planning your extension, be sure to carry out a soil survey to determine what type of foundations you can use and how deep they should be.
Laying Strip Foundations
Strip foundations are most commonly used for domestic extensions but, before you can begin laying them, you'll need to excavate the land to a suitable depth. Foundations are typically mapped out using string, before the soil is removed, and depth pegs are driven into the trench at regular intervals. Following this, a mixture of concrete and ballast is poured into the trenches, up to the height of the depth pegs. Once the concrete has fully hardened, bricks are added to begin forming the walls of your extension.
While the process of laying strip foundations can sound deceptively simple, calculating the appropriate depth, determining which type of foundations are suitable, and mapping out the land correctly can be tricky. Furthermore, you'll need to ensure that the foundations won't affect existing pipework or cables, or plan to have these removed and rerouted, as well as hiring equipment to remove the soil and dispose of it.
Due to the integral role foundations play in any building project, it can be well worth hiring qualified builders to complete this job for you. With the safety and success of your new extension utterly dependent on the foundations, this is a task that demands expertise and experience.