How to Support Roof Purlins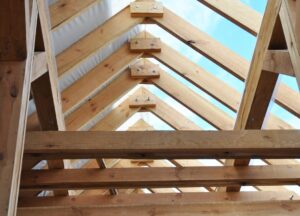 A roof may look like a deceptively simple structure from the exterior but it's actually a complex framework that requires multiple components. Without the right support, a roof becomes unstable, which is why it's important to understand what purlins are and know how to support them.
What Are Roof Purlins?
Beneath the tiles on a roof lies a wooden truss or framework. Purlins are an important feature that forms part of this framework and give something for roofing sheets to be affixed to. As you'll be securing roof sheets to the purlins, they should be at least 50mm wide.
To the untrained eye, purlins look like wooden beams or square poles. Once in place, they run horizontally and are placed at varying heights, so that roof sheets can be attached to them in accordance with the pitch of the roof.
Knowing where to place the purlins is important. If they're too far apart, they won't provide sufficient support, which will affect the structural integrity of the roof. In general, purlins should be no further than 1.2 metres apart if you're using roof sheets with a thickness of 0.7mm. However, if you're going to affix roof sheets with a thickness of 0.5mm, purlins should be no more than 1 metre apart.
How Are Purlins Supported?
To ensure purlins remain in place, they need to be secured to other roof components. In most instances, purlins will be supported by the rafters of the roof. It's particularly important that all joins and laps are placed over a rafter, so that additional support is provided.
If purlins aren't supported correctly, they won't bear the right amount of weight, which means the roof could collapse once roofing sheets or tiles are added. Due to this, it's essential to plan the framework in advance and space the purlins so that they will bear a sufficient amount of weight. By doing so, you can enhance the integrity of the structure.
Can Purlins Be Fitted Easily?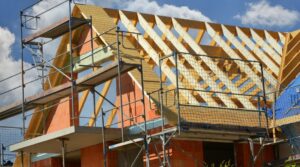 Constructing a roof can be relatively easy when you're dealing with a small shed or outbuilding. If you're modifying or replacing the roof on a residential home, however, the process is a lot more complicated. Due to this, most property owners hire professional roofers to install, repair or replace purlins. With experience, expertise, and professional equipment, a specialist roofing company can ensure that purlins are fully supported and placed appropriately.