What Is Purlin Roof Construction?
Unless you spend a lot of time looking at the exterior of properties, you may not have noticed how many different types of roofs there are. Even when building residential properties, numerous styles of roofing can be used, although pitched roofs are the most common.
Sometimes referred to as a purlin-cut roof, this type of roof is most often found on older buildings, particularly those dating from the Edwardian or Victorian eras. However, purlins may still be added to the framework of a roof, particularly if roof sheets are going to be used.
What Are Purlins Used For?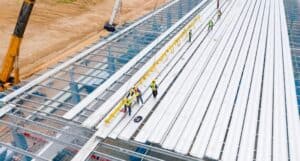 Purlins play an integral role in the framework of a roof. They run longitudinally and sit partway up the pitch. Often, purlins are placed between the eaves and the ridge of a roof, although multiple rows of purlins can be used on larger roofs or those with higher pitches.
When a purlin-cut roof is constructed, the purlins provide support to the roofing sheets. Without them, there would be nothing to affix the sheets to. Due to this, they're an important element of the roof and must be spaced appropriately, so that they can bear the weight of the sheets.
How Are Purlins Supported?
Purlins must be affixed to other parts of the roof so that they're adequately supported. Typically, purlins are installed on the joists of the roof. As a single purlin may be shorter than the length of the roof, more than one purlin may be laid at the same pitch. If so, it's important to ensure that the joint rests over a joist, so that extra support can be provided.
What Are Purlins Made From?
Traditionally, purlins were made from wood and many roofs still feature wooden purlins. However, other options are now available. Steel purlins are frequently used by roofers, for example, particularly when constructing roofs on commercial or industrial buildings.
How East Is It to Lay Purlins?
Constructing any type of roof on a residential property is a challenging job. To ensure the safety of the structure, detailed plans must be drafted to ensure that the roof will be properly supported. Furthermore, each component needs to be placed in accordance with mathematical formulas, so that the pitch and angles are correct.
While affixing purlins to joists may seem relatively simple, actually calculating where to place them and how many you'll need can be much more difficult. Due to this, most property owners hire professional roofers to install, repair, or replace any type of roof.