Difference Between a Homebuyer Survey and a Condition Report
Getting a building survey or a home survey carried out is an important step in the process of purchasing your new property. While having a survey carried out on a property that you are planning to buy is not a legal requirement for buyers, it may be required by many mortgage lenders, and experts recommend always having one done to ensure that you go into the purchase of your home with peace of mind and all the information that you need regarding issues that you'll need to fix and anything else that could potentially go wrong. On average, buyers who invest in a survey on the property before completing the purchase save around £5k on future repairs and other costs compared to those who do not have a survey carried out.
There are three main surveys that are offered by RICS surveyors, which include a condition report, homebuyer's survey and structural survey. When buying an average property in good or average condition that is under fifty years old, your best options will typically be either a condition report or a homebuyer's survey. Understanding the differences between these two survey types, what they involve and what you can expect from the report is an important step in deciding which survey is going to be the best choice for your potential new home.
What is a Condition Report?
The RICS condition report is the most basic type of building survey available. It is usually done on fairly new homes that are in good condition. It offers a general overview of the property's condition along with highlights of any issues that are going to need your attention. This is the ideal choice of survey if you want to purchase a fairly new property or a standard, modern home that is in good condition. Most of the time, buyers choose this survey when they simply want to get confirmation that everything is okay with the property and be informed of anything that could pose a problem. The report for this type of survey will use a traffic light rating to describe the condition of each area of the home.
What is a Homebuyer's Survey?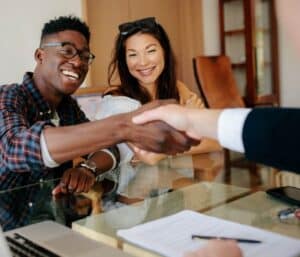 The RICS homebuyer's survey is the most popular type of survey that is conducted on properties. It is usually the first choice for anybody who wants to purchase a property of average age and condition. It will explore everything that is covered in a condition report, but goes into more depth. Typically, you can expect this survey to take between 2-4 hours to complete, although this can vary depending on the size and condition of the property. Once the survey is completed, you will be given a report that includes a list of problems that might have an impact on the property value. The surveyor will look for and inform you of any issues such as damp, mould, subsidence, rot, or the presence of asbestos, for example. The report will also provide advice on recommended repairs and their estimated cost along with ongoing maintenance on the property. The report may also provide information from the surveyor on their estimated worth of the property, and the estimated cost of completely rebuilding the property if it was destroyed.
How Long Does a Survey Take?
The amount of time that you can expect your survey to take will depend on whether you decide to get a condition report or a homebuyer's survey, along with other factors such as the size of the property, property value, and the condition of the property that is being surveyed. A condition report will typically be the fastest survey to carry out, generally lasting for no more than an hour or two. On the other hand, since the homebuyer's survey is a little more in-depth than the condition report, this survey is expected to take longer, and the surveyor will usually need to have access to the property for up to four hours. You can expect to receive the survey report in no longer than five days after the survey has been completed.
Cost of Building Surveys:
The price of getting the property surveyed will vary depending on the type of survey that you choose and other factors. On average, a property in average condition valued between £600,000-£900,000 will typically cost you around £500-£700 for a condition report and £600-800 for a homebuyer's survey. It's also worth bearing in mind that RICS surveyors are free to set their own fees, so it's worth shopping around and getting several quotes from different surveyors before you decide which one is the right option for you.
How to Choose the Right Survey:
Whether to get a condition report or a homebuyer's survey will depend on the type of property that you want to buy and the amount of information that you want to have as a result of the survey. If you want a more detailed report that goes into more depth about any issues that have been found, and that provides you with an average cost of making the necessary repairs, it's worth paying more to get a homebuyer's survey. On the other hand, if you are buying a fairly new property and simply want to have it confirmed that there are no major issues and everything is mostly okay, a condition report will be the best option for you. If you are unsure of which survey to choose, an RICS surveyor can provide advice to help you make the best decision.
Finding a Surveyor:
Finding a reputable surveyor to conduct your condition report or homebuyer's survey is important. Whether you go for an independent contractor or a large company, the first thing to ensure is that the surveyor is registered with RICS. You can use comparison websites, personal recommendations, or local listings to find a suitable surveyor. Surveyors are also recommended regularly by estate agents, mortgage providers, and conveyancing solicitors.
Condition reports and homebuyer's surveys are ideal for average properties. If you are planning to purchase a property, understanding the difference between these building surveys and what they entail is important.