How to Patch a Hole in a Brick Chimney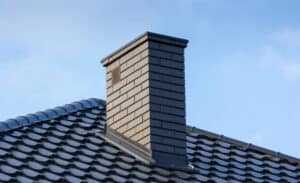 No matter how expertly bricks are laid, holes can develop over time. If a chimney is in situ for years, for example, weather damage could cause small holes or chips in the bricks or mortar to develop. Alternatively, if you drill into the brick to hold a television aerial or wiring in place and it's no longer required, there will be a hole left in the brick when the wire or aerial is removed.
Due to this, it's not unusual for brickwork to need repairs from time-to-time. Generally, there are two ways to repair a hole in a brick, both of which are simple to carry out.
Repairing a Hole in Brickwork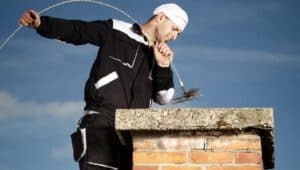 You'll need to begin by cleaning the affected area, using either a stiff brush or a can of compressed air. Then, you can fill the hole with either silicone caulk or mortar mix. By adding brick dust or cement pigment to the mortar mix, you can ensure it's the same shade as the existing brickwork. For silicone caulk, simply add a little brick dust to it once it's in place so that the repair can't be seen.
If the hole is in the mortar, rather than in the brick itself, you can use standard mortar mix to fill it. Apply with a pointing trowel and use a smaller pointing tool to add a decorative finish and ensure the repairs are in keeping with the existing brickwork.
Accessing the Chimney
Repairing a hole in brickwork might be a relatively easy task but accessing the chimney can be far more difficult. Whether it's located on the ridge of the roof or on one of the eaves, you'll still need to climb to a significant height before you can reach it.
To patch a hole in chimney brickwork safely, it's important to use scaffolding, so that you're able to gain access to the affected area. Alternatively, a boom lift, access platform, or scissor lift could be used. However, you'll also want to make sure that you have access to additional safety equipment, such as a harness.
Although patching up brickwork can usually be completed swiftly, accessing the chimney is the most difficult part of the job. Due to this, many property owners prefer to hire specialists in order to complete these types of repairs. With experience and expertise, as well as industrial equipment, hiring a professional could be the easiest and safest way to get the job done.