What Does a Property Valuation Include?
A property valuation is the process of estimating the current market value of a property based on how much it would normally set for. A property valuation is carried out by a professional estate agent or surveyor who is a neutral third-party with no stake in the property whatsoever. In general, the report that is generated from a property valuation survey will last for up to three months before they become invalid.
What Does a Surveyor Look for During a Property Valuation Survey?
Most of the time, the surveyor will look for similar things to what the buyer will look for when performing the property valuation survey. They will carry out an assessment of the land and the property, including the size, location and topography. They will also consider the potential for development of both the property and the land. They will conduct an internal and external inspection of the property including the size and condition of the building, the property's age, layout, and design. They will also inspect the condition of various fixtures, fittings and systems within the property. Factors such as ease of vehicle access will also be considered, and the surveyor will take photos of the property to highlight any important features that could have an impact on the final valuation report.
How Long Does a Property Valuation Survey Take?
The length of time that you can expect a property valuation survey to take will depend on the size and condition of the property. Most of the time, you can expect the valuation survey itself to last around 20-30 minutes for a property of average size and reasonable condition. You will then wait for around two to three working days for the report to be compiled and sent back to you.
How Much Does a Property Valuation Survey Cost?
Whether or not you pay to have your property valued will depend on how you go about getting the valuation carried out. In most cases, sellers who instruct an estate agent to sell their property will be able to take advantage of a free valuation service, which estate agents will often use as a chance to view the property and pitch their services to the seller. However, it is worth bearing in mind that the estate agent valuation is not a valuation survey carried out by a RICS surveyor. If you decide to have a RICS surveyor carry out a valuation survey on a property that you are buying, selling or remortgaging, this could cost between £600 and £800 depending on many factors. You can usually expect to pay an average price of £600-£800 for a property valuation survey on an average property priced at between £500,000 and £800,000.
Questions Asked During a Property Valuation Survey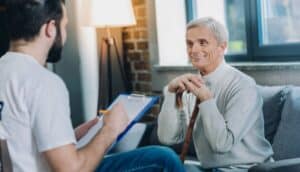 If you're selling your property, it's a good idea to be prepared to answer some questions about the property during the valuation process. The surveyor will want to know certain information about the property including its initial price and the length of time that you have owned it. They will also ask about any renovation work that you have carried out in the property and if you are aware of any issues or defects. It's important to be honest with the surveyor about anything you know, since the discovery of problems with the property later down the line can cause issues with the sale.
Is It Worth Getting a Property Valuation Survey When Buying?
If you have put an offer on a property and want to purchase it, you might be considering getting a property valuation survey carried out to ensure that you are not paying more than the property is worth. As a buyer, understanding the true value of the property can be a useful tool since this can help you negotiate the price with the seller and save money. However, for buyers, it is not normally recommended to have a property valuation survey carried out. It is often better value for money to get a homebuyer's survey or a structural survey carried out, with these building surveys often priced at only a small amount higher than a property valuation survey, with much more involved. In general, RICS surveyors will provide an estimated value of the property with a homebuyer's survey or structural survey report, along with further information including any defects and problems found and the estimated cost of repairs and maintenance.
Why Does My Mortgage Lender Want a Valuation Survey?
If you are in the process of buying a property with a mortgage, it is not unusual for a mortgage provider to request that a property valuation is carried out on the property before accepting your application and releasing the funds so that you can complete the purchase. The purpose of this is to reduce the risk to the mortgage lender who will want to avoid lending more money than the property is worth. A mortgage valuation survey can be carried out in two different ways. Typically, this will include either a desk-based or a physical visit survey. More often than not, mortgage providers ask surveyors to conduct a desk-based survey since this will be adequate for most modern properties. This involves research into the property using house price indexes such as the Land Registry along with comparing it to similar properties in the area that have sold within the past few months.
What Impacts the Value of a Property?
During the valuation survey, the surveyor will look for several factors that will have an impact on the property's overall value. These include the basic specifications of the property such as the number of bedrooms and bathrooms, the size of the property, its condition, appearance, and location, including proximity to local amenities such as schools, healthcare, and transport links.
A property valuation survey is a basic, short survey that is carried out for the purpose of finding the most accurate current value of a property. It is used by sellers, buyers, mortgage lenders, and homeowners who want to remortgage their property.